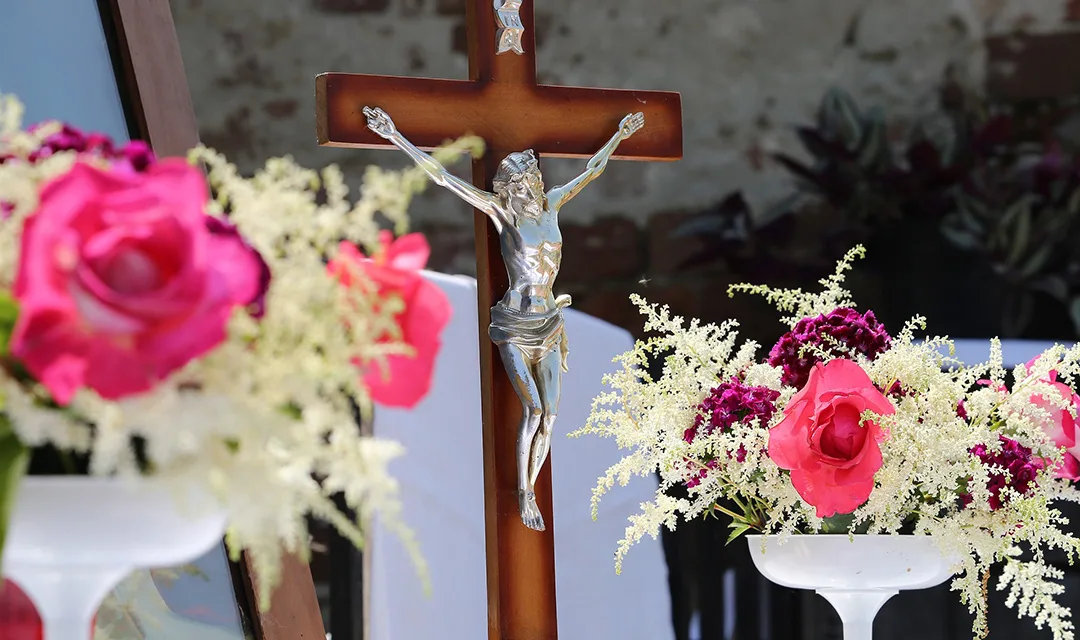 Corpus Christi
Solemnity of the Most Holy Body and Blood of Christ ∼ Corpus Domini (IT) ∼ Corpo de Deus (PT) ∼ Fête-Dieu (FR) ∼ Fronleichnam (DE) ∼ Boże Ciało (PL) ∼ Tijelovo (HR)
The Roman Catholic feast that celebrates the real presence of Christ in the Eucharist
Religious group
Christianity

Corpus Christi is a solemn religious festival celebrated mainly by the Roman Catholic Church. Its name derives from Latin and means "the body of Christ", while it celebrates the transubstantiation of bread and wine into the actual body of Christ during the Mass, honoring the real presence of Jesus in the Eucharist. It is a movable feast that is observed either on Thursday or Sunday after Trinity Sunday (60 days after Easter). Thus, depending on the Easter date, it can fall during May or June.
The history & the present
According to the tradition, the festival owes its existence to the St. Juliana of Liege who from the age of 16 had continued visions of Christ telling her to institute the feast. After she became a nun and revealing the visions to her confessor, the local Bishop Robert de Torote ordered the first historical celebration that took place in 1246 in Liege. Some years later Corpus Christi started to spread widely since in 1261 the former archdeacon of Liege, Jacques Pantaleon became Pope as Urban IV. In 1316 the succeeding Pope, John the XXII issued an official bull and during his papacy, an annual Corpus Christi procession started to be held in the Vatican streets.
The central element of the ritualistic part of the celebration is the liturgical procession of faithful and priests that goes out of the church and holds in the streets of the parish. During the procession, the "sacred host" (wafer/bread blessed during the ritual of the Eucharist) which is displayed in a monstrance, held by a member of the clergy, symbolizes the presence of the Savior. Given that the event commemorates the Last Supper and the communion of Jesus with the Apostles before his Crucifixion, many Christians around the world receive the Holy Communion on this day.
Why is Corpus Christi only Roman Catholic?
Corpus Christi is mainly observed by the Roman Catholic Church but it is also included in the calendar of some Anglican churches. Its celebration was suppressed during the Reformation, thus, the Protestant churches do not recognize or celebrate the feast. In the same way, the fact that Corpus Christ was introduced after the Schism between West and East Christianity makes the Orthodox Churches not to include the festivity in their liturgical calendar. Corpus Christi is a public holiday in countries with a predominantly Catholic population and in many cases, the conducted rituals and processions offer a unique spiritual experience to visitors and attendants.